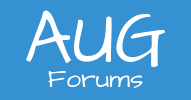 [Solved]

Custom pages & reports suddenly becoming inaccessible?
This might be a lost cause, but I figured I'd ask - has anyone else had issues with an entire module's customized pages suddenly not being accessible?
Our team hasn't made any changes to Acumatica in a week, but last night all of our customized pages, reports, and generic inquiries we added to the Sales Order module suddenly became inaccessible. They don't show up on the site map, they can't be reached by direct URL, etc. Worse, any further edits to the site map are affected the same way - new nodes don't show up in the navigation pane, and when we directly enter the screen ID in the URL, we're redirected back to the Main screen.
The thing is, the pages still exist in our customization project, and they haven't been touched. The database entries are correct, the filepaths are the same, nothing's been modified in the past week, etc. We've tried mapping them to different site nodes, re-publishing the customization project, restarting the website in IIS, and rebooting the server.
Has anyone dealt with anything like this, or have ideas of what to try next? We've tried reaching out to our partner company, but they've been so unhelpful in the past we don't have much faith.
(Editing to add - we're in version 18.206.0011)
This topic was modified 5 months ago by
Jean
Posted : September 6, 2019 11:29 am
Solved - it turns out that someone had created a new user role in the permissions tree, and it had ripple effects which caused anyone with "Not Set" permissions for those pages to be unable to view them. Unfortunately, this was every single user, including the admins.
Lesson learned - we'll be going through and explicitly setting per-page permissions for every user type.
Posted : September 6, 2019 3:00 pm
Posted : September 28, 2019 7:16 pm
Agreed and voted. What's really frustrating is how Not Set means different things under different circumstances; I'd rather it always mean either "allow" or "don't allow", regardless of who else's permissions I've set. Thanks!
Posted : September 30, 2019 11:49 am