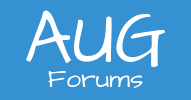 By using this website, you agree to our Terms of Use (click here)
Post Title
Forum
RE: GI for Restriction Groups

By Wyatt.ERP, 12 hours ago

Acumatica Generic Inquiries
Acumatica stores the Group information in a table callesd RelationGroup. It stores what object is part of each Group Restriction information on the records themselves. In your case, that would be th...
RE: Credit Card Debit Memo (Refund)

By megan.friesen, 16 hours ago

Acumatica Finance Modules
Has anyone found a solution for this situation while using the Corporate Card functionality in 2019 R2? We are running into the same issue that you can't do a negative credit card transaction and the...
RE: Sending Acumatica Email with Office 365

By Michelle Condon, 1 day ago

Everything Else
We really only want Inbound processing for those emails that are responses to the messages sent from Acumatica so that the email is automatically attached and filed against the associated document or ...
RE: Chart of Accounts - Control Account Module (Acumatica 2019 R2)

By Tim Rodman, 3 days ago

Acumatica Finance Modules
Agreed, it would be nice to have a list.
Attribute in Customization Project Form

By Matthew Beckler, 3 days ago

Acumatica Projects Module
Hi, I'm very very new to Acumatica. I'm on 2019 R1. I'm want to have an attribute displayed in the form header of a project. Any other field I add displays properly but when I add the attribute data f...
Upload from Mobile in 2020R1

By megan.friesen, 4 days ago

Acumatica Mobile App
Just a note for the other VARs out there. If you need to demo the Upload from Mobile feature, your demo environment must have a valid license key. This would also affect the other push notifications...
Shipping attention field override not reflecting on invoice form.

By alk12340, 4 days ago

Acumatica Report Designer
This client I have has a customer who has multiple locations on the customer - when creating the invoice they select the correct location and the default attention name comes into the invoice then the...
On Time Delivery

By jwhorton, 4 days ago

Everything Else
I'm new to Acumatica and have been trying to find an On-Time delivery report. Can anyone offer any assistance?
RE: Using the COVID-19 Coronavirus to improve Business Processes

By ncantral, 5 days ago

Everything Else
We're currently under stay-at-home orders, but are considered an essential business. It's been interesting to see how it shifted our priorities when we are doing our best to keep operating like stagg...
RE: Outside Processing Flag on Work Center

By Tim Rodman, 5 days ago

Acumatica Manufacturing Modules
Here's a nice video showing the new Outside Processing feature in Acumatica 2020 R1 Outside processing in manufacturing - acumatica
GI for Restriction Groups

By Julian Lange, 5 days ago

Acumatica Generic Inquiries
Has anyone had any luck working out where the Restriction Group Data is stored? I'm trying to build a simple Inquiry so that a client can easily review which accounts and sub accounts have been added ...
Convert an attribute value to use in a calculation

By Coleen McNally, 6 days ago

Acumatica Report Designer
I have an attribute on a project that stores a ceiling amount. The attributes was setup as a Text field. In Report Designer I need a calculation that subtracts the invoice total from the ceiling at...
RE: Dynamic fields on a Sales Order Summary Report Email Settings

By Lisandro Quiñones, 6 days ago

Acumatica Distribution Modules
@timrodman right that's what I do manually, I want to be able to automate it!
RE: Outlook add-in issue

By Jody Lorincz, 6 days ago

Acumatica CRM Module
I am thinking it may be related to the other email issue we are experiencing Acumatica Email Issue. I Sent them both into the VAR. They uploaded a copy of our DB to Acumatica for investigation. When...