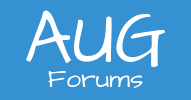 By using this website, you agree to our Terms of Use (click here)
[Sticky]

Making AUG Forums Better
I think I fixed the login setting to keep you on your current page when you login. Please let me know if that isn't working for you.

As for extending the cookie expiration, I still need to look at that.
Nope, doesn't work. After login i get dumped back on the forum index page as always.
Posted : July 3, 2019 4:45 pm