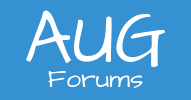 By using this website, you agree to our Terms of Use (click here)
[Sticky]

Making AUG Forums Better
@royce-lithgo,

I think I fixed the login setting to keep you on your current page when you login. Please let me know if that isn't working for you.

As for extending the cookie expiration, I still need to look at that.
Nope, doesn't work. After login i get dumped back on the forum index page as always.
Posted : July 3, 2019 4:45 pm
Posted : July 4, 2019 7:30 pm
Ya, two things going on. First thing, for the login, are you using the new Login buttons above the forums?
Second thing, for the errors, I'm working on that. I just moved everything from TimRodman.com to AUGForums.com to be more official and get official recognition from Acumatica, but I'm battling some issues.
Posted : July 4, 2019 7:46 pm
No, I see this:
Clicking the link redirects to a OneAll login page, which I logged in to. But still it didn't solve it.
I am using the login page that popups up when trying to reply to a post when you are not logged in. After logging in that way you end up on that WP preferences page.
Posted : July 4, 2019 8:01 pm
Can you try doing a hard refresh using Ctrl-F5 to clear the browser cache? That solved the OneAll error for me. I need to figure out why the Reply->Login method is taking you to that page now that I understand the navigation you are using.
In the meantime, try using the new login buttons on the top (assuming the hard refresh fixed them). They should only be displayed if you aren't logged in. And logging in using those buttons should keep you on the current page.
This post was modified 9 months ago 2 times by
Tim Rodman
Posted : July 5, 2019 1:31 am
Ctrl + F5 resolved the issue and I logged in via Google.
Posted : July 7, 2019 5:09 pm
Tim,
Would you be able to make the "AUG Forums" logo at the top of the page a link go back to the top level forum?  I find myself clicking it often thinking it will take me back.
Posted : January 21, 2020 10:55 am
Posted : January 21, 2020 12:15 pm
Dear AUG Forums Users,

I have one simple question for you.

How can we make AUG better?

I'd love to hear your feedback.
I never noticed this quoting before, where you highlight the post and then click the ["] box that pops out.  Is this new?  It is really slick, I like it!
Posted : February 13, 2020 4:53 pm
It is really slick, I like it!
Fairly new, but I can't remember exactly when it got introduced. Works on mobile too which I'm using right now to type this reply 🙂
Posted : February 13, 2020 7:07 pm
Hi Tim:
Your AUG Forums are fantastic. The only issue I had was that it was public. But now I guess it has become private since you need to login, and that you can monitor it so that competitors don't see our dirty laundry (problems, shortcomings, ...) . They could eat our lunch. 
Thanks, Tim for all your work. 
Posted : February 18, 2020 12:13 pm
Tim:
I am looking for a free screen anotator that lets me highlight/anotate the screen while demoing. Winsnap requires me to snap the screen, and then anotate it. I don't like that. The Google chrome paint is not good enough. 
You even have an anotator for your mobile phone! Which one? 
Thanks 
Toon Six
Posted : February 18, 2020 12:18 pm
Hi Tim:
I would not make basic courses. As long as they are free, nobody will pay for them. See AcuCademy. 
You maybe lucky with very advanced coursed that Acumatica will probably never offer free. 
I am thinking of:
Advanced Discrete Manufacturing course for plastics manufacturers (injection molding, blow molding, ...therma form,...) with Advanced Planning and Scheduling
Integrated Advanced Manufacturing where you take 2-3 business scenarios through opportunities, project accounting, CadTalk, AME (BOM, demand planning, MRP), Production Order Release, Critical Materials, WMS (NetStock, Savant, ..) to purchase and receive materials ( ISV app: ..), and put them away, Material Wizard and WMS to scan materials and to move them to production plant, actual production with capturing actual labor and materials used (WMS scanning),  moving finished goods to inventory, pick, pack and ship using a WMS, sending out invoice, payment processing (APS, EBizCharge, ..)
Demand Planning and what if scenarios
Advanced inventory management: integration of Eazystock (including demand planning and complex EOQ)  with Acumatica Distribution and AME. 
Such courses would really be a homerun with customers.
Thanks
Toon Six
Posted : February 18, 2020 1:03 pm