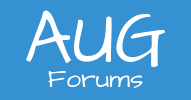 By using this website, you agree to our Terms of Use (click here)
Help using parameters
Good afternoon,
I am pretty new to the Report Designer and writing my first report from scratch to list Subcontracts and their financial statuses. Got the data I want to display but am now stuck (all afternoon) trying to get a parameters to work. The field I have on my report and which gives me the data I want is POOrder.OrderNbr, subcontracts are orders of ordertype RS...I'm golden.
You learned folks on this forum have led me to think that a parameter should be added via the Schema Builder on the parameters tab. I have added a parameter named OrderNbr, datatype = String and ViewName set to =Report.GetFieldSchema('POOrder.OrderNbr') 
Prompt is OrderNbr
When I run the report I get the parameter screen pop up but there is never anything there for me to select...obviously I am missing something with my syntax or another step. I get exactly the same problem when I try this with Generic Inquiries as well and therefore am led to conclude it's a common problem with the nut that keeps the seat and keyboard together 🙁
Thank you in advance.
Ian
Posted : October 5, 2019 6:09 pm
I suspect because you're missing Order Type. 
Take a look at the Purchase Order form report and compare it to yours.
Posted : October 9, 2019 9:27 pm