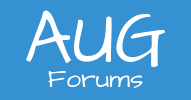 Sorting by Custom DAC field not working in GI - with workaround
I just ran into an interesting issue and workaround. 
Issue: We created a custom SQL view and then created the DAC in Acumatica.  I added the DAC to our customer GI, but then couldn't sort by any of the fields from the custom DAC when viewing the data.  All normal Acuamtica fields worked fine.  I could default the sort order when defining the GI, but users couldn't resort the list by the custom DAC fields.  
Workaround:  In the GI results grid, I select a normal Acumatica object for the object and then reference the custom field in the formula of the data field.  For example, my object was "Customer" and my data field was "= [C_V_NextFollowUp.FollowUpDate]".  For whatever reason, the sorting now works. 
We are on 2018r2, so maybe this works differently in later releases.  Just figured I would share in case others were puzzled the same sorting issue.
Posted : November 14, 2019 12:04 pm