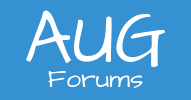 By using this website, you agree to our Terms of Use (click here)
APInvoice to APPayment with Workflow
How do I join AP Invoice table to AP Payment with Workflow for both Bills and Payments ?
Been staring at the default GI for AP Bill and AP Payment and have no clue how to start. 
Seems easier to do with SQL.  Rather daunting with GI.  Perhaps I need to go for extensive training on Generic Inquiries.
Thanks in advance.
Posted : November 8, 2019 12:43 am
Posted : December 11, 2019 3:14 am