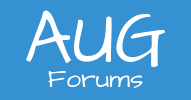 Sharing personalized dashboard
I have a user that personalized the standard Controller dashboard and wants to share it with other users.  Since the Allow Users to Personalize box is checked, is creating a new dashboard and adding the same widgets the only way to share?  I haven't found another way.
Thanks,
Dennis
The 86,400 seconds you have today can't be reused. Invest them in others for the future.
Posted : August 12, 2019 2:50 pm
I don't know of a way besides editing the SQL in the database (if you have access). Personally, I'm not a big fan of that option for exactly this reason.
There are a number of usability improvements that could be made to Acumatica Dashboards, including this one:
https://feedback.acumatica.com/ideas/ACU-I-1691
Posted : August 30, 2019 7:56 pm