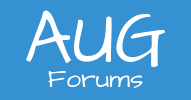 By using this website, you agree to our Terms of Use (click here)
Summit Mobile App
Are you not seeing the full schedule in the Acumatica Summit Attendee-Hub mobile app? If you're like me, then you accidentally signed in with the wrong email address.
I checked the schedule a while ago and figured they just hadn't added all of the sessions yet. But I checked it again this week and it still looked pretty sparse, especially with Summit less than a week away. Tuesday looked like this (the Keynote wasn't even listed):
So I called the 866-318-4357 support number on this website (click here), pressed the option for CrowdCompass (I think it was #3), and talked to a helpful support person.
All I had to do was logout like this:
Then login again like this (this time using the email address that I registered for Summit with):
Ah, now the Tuesday schedule looks much better:
Posted : January 21, 2020 7:32 am
Thanks Tim, I ran into a similar but different problem with the mobile app.  I never got rid of the attendee hub app after the 2019 Summit.  When I went through the process get everything setup, I saw I was already scheduled and all the timing looked off.  It was still loading the old Summit Information.  There is probably a way to change your event through the app, but I ended up uninstalling and reinstalling it which allowed me to enter the correct event code and get rolling!
Posted : January 21, 2020 10:42 am