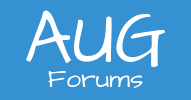 Print Branch Name in Header ARM Report
I am a "novice" with respect to creating ARM reports and am attempting to learn as much as possible...
I have a Balance Sheet ARM report that request the Starting and Ending Branch.
In the Column Header section I have  =@StartBranch + ' TO '  + @EndBranch.  (e.g. 2AOto 3BB)
This prints the Branch ID. Is it possible to also print the Branch Name as well?  (e.g. 2 Apple Orchard to 3 Bubbling Brook) and what is the "coding"
More importantly where would I have found this information.
Posted : October 27, 2017 3:06 pm
Hey LarCigar,
Novices welcome here. I'm still a novice myself, learning something new about Acumatica every day.
If you put the branch in the @StartBranch or @EndBranch, then you can use those parameters with the Branch ID as you discovered. But there is no @StartBranchName or @EndBranchName parameter as far as I know.
You can see the full list of available parameters (eg. @StartBranch and @EndBranch):
There is a @BranchName parameter, but I'm pretty sure that it only pulls the Branch from the @StartBranch field. Also, if you are using a Unit Set, it will pull the values from the Unit Set.
Posted : October 27, 2017 3:27 pm
Posted : February 21, 2018 5:10 pm
Worked out how the GetDescription works in the Column set to get names rather than ID.  As above they have added a specific function for GetBranchText but they don't for Sub Account which was quite annoying.  There are no examples of how the GetDescription should be setup.  Basically you need to find a form where the Selector is used to select the value so that you can find the dataclass it uses.  In this case the Budget Configuration has a selector for subaccount rather than using the F3 pop-up.
Then the Syntax is:
=Report.GetDescription('GLBudgetTree.SubID', @StartSub)
Posted : April 13, 2018 2:25 am
Nice trick to find the DAC field!
But I'm not able to get your formula to work.
First, I told a line in the Row Sets (CS206010) screen to expand by Subaccount:
Then, I added a calculated column in the Column Sets (CS206020) screen with your formula:
But nothing prints on the report:
What am I missing?
Posted : April 13, 2018 6:04 pm
Ah, of course. Silly me. We're referencing the parameter from the report here, not the individual lines from the Row Set. Thanks for clearing that up.
Posted : April 15, 2018 11:33 pm
Hi There!
Thank you both for this wonderful information. Do either of you know how to get the Project Description in the header to populate? I tried different variations of Report.GetDescription('PMProject.Description', @StartProject) or Report.GetDescription('PMProject.ContractCD', @StartProject) or Report.GetDescription('PMProject.ContractID', @StartProject) with no luck. Any insight would help. 
Thank you!
RR
Posted : July 31, 2018 4:11 pm
Hi Ronita,
Hmmm, not sure what's wrong with the main Project lookup field. I tried the same technique on the main Vendor lookup field and it worked.
But I was able to get this to work:
=Report.GetDescription('PMTran.ProjectID',@StartProject)
Does that work for you?
Posted : August 6, 2018 7:23 am
Tim & Julian,
Thanks for this info, it was a huge help for with adding the subaccount description to the top of an ARM Report for one of our customers! That's great to know.  The only question is, I have no clue how you figured out the DAC to use in the formula.  Do you have a way of detailing out how you determined the correct DAC to use? Thanks,
Chris
Chris Love
Accounting Systems, Inc.
Posted : November 7, 2019 5:04 pm