Last week I wrote in general about the Acumatica email engine (click here). This week I'd like to go further and cover something more specific related to email in Acumatica. Acumatica can basically act as an email client, just like Microsoft Outlook, Gmail, Yahoo, or other popular clients. It just needs to connect to an email server. In order to test out the Acumatica email functionality, I think it's easy to use a Gmail account. Why? Because if you don't have one you can easily create an account on Gmail.com without having to call your IT department.
Once you have a Gmail account, setting it up in Acumatica is actually very easy. How easy?
Step 1: Navigate to
Configuration –> Email –> System Email Accounts (SM204002)
This is the only screen you need in order to setup your Gmail account in Acumatica. You just need to fill-out the fields like this: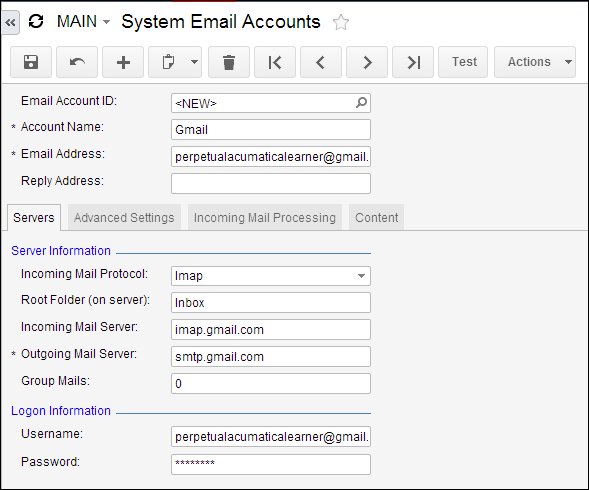 The Root Folder (on server) field allows you to put in any folder you want. I put Inbox in my setup so Acumatica will see all emails, but you could change this to be any of your mail folders. This is especially useful if you are linking your regular email account to Acumatica since you probably want to manually decide which emails Acumatica will see.
Step 2: Fill out the
Advanced Settings

tab like this
This is just some more technical stuff that allows Acumatica to connect to Gmail.
Step 3: Fill out the
Incoming Mail Processing

tab like this
You actually don't HAVE to activate this if you only want Acumatica to send emails and not receive them, but you'd be missing out on the coolest part of the Acumatica email engine. I definitely recommend setting it up to at least give it a try.
I picked the E-Mail Support Common Response template for sending an automatic "we got your email" response to the sender of the email, but you could pick any template or easily create your own using the Configuration –> Email –> Notification Templates (SM204003) screen.
The most interesting part of this screen (I think) is the Main Processing section where you can have Acumatica do something with the email. This is where I wonder if you can add your own custom options (I'm not sure yet though). One example custom option that I can think of would be a paperless Accounts Payable option that would allow people to send invoices as attachments to an email address and Acumatica would automatically put them in a queue for paperless routing/approval/coding before they could be converted into actual invoices in the Accounts Payable module.
The Main Processing section could also be used in conjunction with the Root Folder (on server) field in Step 1. You could create multiple folders (Gmail calls them "Labels") in your Gmail account, something like this:
Acumatica – Create a New Case
Acumatica – Create a New Lead
Then you could follow the steps on this page to setup your email account multiple times. Just make sure to use a new Account Name each time like "Gmail Create New Case" and "Gmail Create New Lead". Then you could associate each of your mail folders (labels) to just one action under Main Processing. That way you would know that Acumatica would only do one thing with your email when you put it in a folder (label) within Gmail. Of course, if you do want Acumatica to do multiple things, just add multiple labels to the email within Gmail.
Step 4: Fill out the
Content

tab like this
I actually didn't do anything with the settings here; I just took the defaults. However, you might want to mess with these settings if you only want to allow certain attachment types, depending on what you're using the email account for.
Step 5: Click the
Save

button
Step 6: Click the
Test

button
This just allows Acumatica to make sure that it can connect to Gmail. You should see a green checkmark show up next to the Actions button if everything is ok.
Congratulations! You're Done!
Wasn't that easy?
Sending a Test Email
Now we should send a test email to make sure that Acumatica can see it. I just used my Gmail account to send an email to myself like this:

Next, we need to use the Actions button on the Configuration –> Email –> System Email Accounts (SM204002) screen to have Acumatica check for new mail

When this is done, you should get a green checkmark next to the Actions button like we got in Step 6.
Now, we should see the email in Acumatica by navigating to the Organization –> Communication –> Email –> Incoming (CO409000) screen:

Then you can just click the blue hyperlink to call up the email in the Acumatica email client:

From here you could do Forward, Reply, Reply All, all the stuff that you're used to doing with email.
A final note about email scheduling in Acumatica
You probably don't want to have to manually select the Receive All option every time you want Acumatica to see your email. So, just navigate to the Configuration –> Email –> Send and Receive Email (SM205020) to setup a schedule for sending/receiving email. Just click the watch looking icon on the top and click the Add button like this:

You can get pretty fancy with the schedules, but maybe that's a topic for another post…