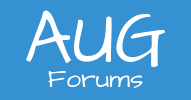 By using this website, you agree to our Terms of Use (click here)
[Sticky]

Welcome and Introductions
Are you new to AUG? Have you been around for a while but never introduced yourself?
You can reply to this Topic to introduce yourself and say hi to all of the other AUG members.
Posted : June 6, 2019 6:47 pm
Posted : June 6, 2019 6:53 pm
Great Idea Tim, 
Hi everyone - I am Carl, my linkedin profile is  https://www.linkedin.com/in/carl-brooks-004b3530/  
I work for MYOB and we are the company who have white labelled Acumatica for the ANZ market, if you are unaware who MYOB is we sell the largest amount of Accounting Software to small business in ANZ, the largest amount of Practice Solutions software to Accountants in ANZ and the largest amount of ERP software in ANZ, the latter as per an independent review by iStart see  https://istart.com.au/buyers-guide-items/erp-buyers-guide/
My role in the business is to help our partners sell and implement the solution and I also work with the eco system of developer partners with their go to market strategy.
Posted : June 11, 2019 8:23 pm
Nice to hear from a MYOB employee Carl. There are a few MYOB advanced customers on here, my company being one of them. 
Posted : June 12, 2019 9:55 pm
Thanks MYOB folks @royce-lithgo, @carl-brooks, and others for helping out the broader Acumatica community in these forums. Much appreciated.
Posted : June 17, 2019 11:44 pm
John Masi here. 
I am the Director of Acumatica Support Services.  I've been working with Kensium for 6 months and have 4 years of total experience with Acumatica and 25+ years implementing ERP systems.  My department, Acumatica Support Services, has a title that is a little misleading as my Team does much more than just 'support' Acumatica, we also assist Clients in developing new customization's, implementing new features, developing reporting and dashboards as well as the run of the mill "my AP check won't print" type of issues. Our Team also supports the VAR community who implement our solutions at their Clients. Last but not least we also support our Partners who have engaged us to build integrations from their Products to Acumatica.
Nice to meet everyone.
Posted : June 19, 2019 10:10 pm
Hi 
My name is Nimat Vadera. I am an Acumatica implementation consultant for the last four and half years and am presently employed at Proserve Solutions LLC an Acumatica Partner. 
Posted : July 14, 2019 10:27 am
Welcome to the neighborhood! My best tip to new members is 'the more you contribute the more you learn and get back.' Enjoy and glad to have you.
Posted : July 14, 2019 6:41 pm
Posted : July 30, 2019 12:25 am
Hello, looking forward to learning more. Nickname is bloo
Posted : July 30, 2019 2:56 pm
Welcome Bloo. Interesting nickname 🙂
Posted : July 31, 2019 12:03 am
Hi!  I recently joined the Aktion Associates Team as an Acumatica Pre Sales Engineer.  I've been an ERP Business Consultant for 20+ years and have been working with Acumatica for 2+ years.  https://www.linkedin.com/in/megakins/
Posted : August 14, 2019 11:13 am
Welcome aboard Meg! You are blessed to be working with the Aktion team and have my condolences on officing with Tim! 😉 
In all seriousness, Tim is an awesome guy.  Enjoy and again, welcome! We look forward to your insights and advice.
Posted : August 14, 2019 11:52 am
Lucky for Meg, she's in Michigan and I'm in Ohio, so she doesn't have to put up with me in person 🙂
Posted : August 14, 2019 3:52 pm
Hi,
I am new to the Acumatica world.
I have been an ERP Business Consultant since 2002 and I'm working with Acumatica for 1 month. I cannot wait to learn more of Acumatica. 
Posted : August 28, 2019 9:47 am