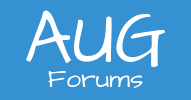 By using this website, you agree to our Terms of Use (click here)
Scheduling Appointments not Entered from with the Route screen
Implementing this for the first time and its a great addition to the system but have had a couple of scratch head moments as to why certain things are restricted when dealing with Routes.  Firstly not being able to access the Scheduled STart and Finish is annoying as you can't use the calendar view to adjust times as a result.
The bigger issue I have encountered is more to do with workflow and I'm not sure if I'm missing something. 
Basically this site has regular scheduled Routes.  They also have Customers call ad hoc and say they would like a Pick up at a future date/time. THis is perfect when Routes aren't used as you can just enter an Appointment and then assign it to Staff at later as well as update dates etc
The issue is that they now want to Schedule this appointment to a Route.  I can't work out why this can't be done.  YOu can use the calendar board to assign to a Staff person but not a ROute?
The scheduler isn't the person who will key in the appointments so the person taking the details won't have any idea about which route it will be assigned to.  That is the job of the scheduler.  It seems weird that this relatively simple workflow doesn't appear to e an option.
Just wondering if I've missed something or if there are any workarounds people may have done
Posted : May 22, 2020 11:40 pm