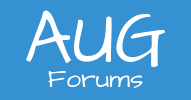 By using this website, you agree to our Terms of Use (click here)
Attribute in Customization Project Form
Hi,
I'm very very new to Acumatica. I'm on 2019 R1. I'm want to have an attribute displayed in the form header of a project. Any other field I add displays properly but when I add the attribute data field nothing shows. Thanks for any assistance.
As you can see above I tried adding the data field from Project and from Project Properties neither work. Every other field I add seems to work just fine.
Matt
Posted : March 27, 2020 10:30 pm