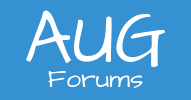 By using this website, you agree to our Terms of Use (click here)
How to turn on Manufacturing module
Does anybody have any idea how to turn on manufacturing module? I'm asking because on my dev machine I've turned on all features, but neither bill of materials nor any form related to AM didn't appear.
Posted : February 18, 2020 3:28 am
Hi Juriy:
Make sure that you imported and published properly the Manufacturing edition customization. Once that is done you should see the customization published in Customizations. See the attached document for more details. Good luck.
Posted : February 19, 2020 10:24 am
Now that Acumatica has acquired JAAS Systems, hopefully we'll see Manufacturing get included in the core code in the near future so you don't have to install a Customization Project.
Posted : February 22, 2020 3:44 pm
Also, if you have licensed your Dev environment, you will also need to get a MFG license. As of 2019R2 this is still a separate license even though much of the MFG suite is now managed in the enable/disable features.
Posted : March 24, 2020 8:27 pm