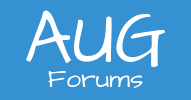 Estimate Preferences (AM103000) Screen
Estimate Number Sequence:

Basically the BOM number.

Default Work Center:

Most people probably leave empty and populate on Estimate.

Default Prod. Order Type:

Default value for a Production Order that is created from an Estimate.

New Revision is Primary:

If checked, whenever you create a new Revision on an Estimate, it will become the Primary automatically.

Update All Revisions:

When you create an Inventory Item from a Non-Inventory Item, do you want to update all Estimates and Revisions with that new Inventory Item record or continue to refer to the Non-Inventory Item record. You probably want to leave this checked.

Update Price Info: Update all estimates and revisions (we think, need to test to confirm).
Just sharing my notes here from an Acumatica Manufacturing Training Class.
This topic was modified 5 months ago by
Tim Rodman
Posted : August 21, 2019 3:00 pm