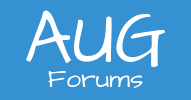 By using this website, you agree to our Terms of Use (click here)
Update Existing Vendor Import
I am trying to change vendor defaults on the stock items screen per item. Some of our items do not have a default vendor; however, they do have mulitple vendors. I tried to create an import scenario to accomplish this, but I keep getting an error. 
Error: Updating 'Inventory Item Vendor Details' record raised at least one error. Please review the errors. Error: 'Purchase Unit' cannot be empty.
I just want to be able to give the vendors attached to items a default status because of having multiple vendors. 
This topic was modified 11 months ago by
Casey Hope
Posted : May 7, 2019 11:57 am
I think you're getting that error because the way you have the Import Scenario setup is telling Acumatica to add a new line to the VENDOR DETAILS tab on the Stock Items (IN202500) screen. It sounds like what you want to do is match an existing line, then update a field on that line.
Try this instead.
Excel file:
Import Scenarios (SM206025) screen:
Posted : May 31, 2019 8:11 pm
@timrodman First of all thanks for providing this forum. It's been such a help to me as I learn how to leverage the system.
Regarding updating default vendor: I think I have followed your example exactly and I can't seem to make it work.
I'd appreciate any insight that you may have.
See attached screencaps:
Excel file:
Import Scenarios Screen:
Item I am testing the update with:
Result I get at import:
Posted : January 7, 2020 5:41 pm
1. In the import scenario, when you want to manually input value, you need to quote it such as ='True'
2. when you importing multiple vendors, I will suggest you put records in different rows in excel file then you can just use only one linenumber=-1
Posted : January 13, 2020 5:27 pm
Thank you for your feedback, sir!
1) I modified the import scenario as you suggested. It did not work. See screenshot below
2) I don't understand what you mean. I think that I already do have records in different rows in excel file
Posted : January 17, 2020 10:31 am
for the first screenshot, you haven't active the <Line Number>,
2 the excel format you are using is correct.
Posted : January 17, 2020 9:54 pm
I didn't have to mark Active on <Line Number> for mine to work, but sounds like that it works for @fred-zhou. Here's my screenshot again:
I did notice that your Inventory ID isn't mapped to the Excel file field which is probably causing an error:
Posted : February 16, 2020 7:24 pm