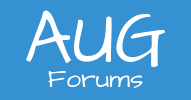 By using this website, you agree to our Terms of Use (click here)
Stack Imports
Does anyone know if there is a way to stack the Imports?  I have several imports than need to run in a particular order so as soon as one finishes I want the next one to start.
Thanks
Posted : December 19, 2019 5:13 pm
That's an interesting idea. It might be possible, but I'm not sure personally how it could be done.
Of course, you can add a schedule to the Process Import Scenarios (SM206035) screen, but I'm not sure how you could daisy chain multiple schedules together or multiple import scenarios together within one schedule.
Posted : January 13, 2020 9:47 pm