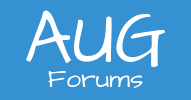 My Import Scenario Wishlist
Dear All,
Been using Data Provider and Import Scenario and looking at how easy things are in the GL Chart of Accounts screen where you can do import/export by clicking on an icon.  Would it be possible for the other modules as well? 
Imagine all the masterfiles and transactions screens can be imported/exported with a touch of a button?
Apart from those already available in SalesDemo, been creating Data Provider/Import Scenario for other screens/developed modules to expedite implementation.
Any thoughts or comments appreciated.
Regards,
Saiful. 
Posted : February 7, 2019 2:29 am
I built our entire suite of master data imports for implementation. I don't see the need to integrate these with pages. They are on-time imports during golive and should  be deactivated once used. 
That being said, have found the odd page where there's no file upload button and it would be nice to have - i think the only avenue for that would be:  https://feedback.acumatica.com/ideas
Posted : February 7, 2019 6:21 pm
The Load Records from File buttons are great, but as far as I can tell they only work on grids. I'm not sure if they could be made to work for something like the Vendors screen where the fields that need to be populated are not in a grid.
It would definitely be nice to have more complete out-of-the-box Import Scenarios in Acumatica. Same could be said for reports.
Posted : February 17, 2019 11:37 pm