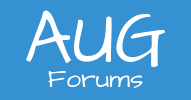 By using this website, you agree to our Terms of Use (click here)
Importing user accounts
I would like to "bulk import" user accounts from Excel or CSV.  Can this be done via import scenario, or other method?  If yes, I'd appreciate more details as to the  import "template" requirements.
Thanks.
Posted : August 28, 2019 11:27 am
While I've never done it, in theory it might be possible but you might have trouble assigning things like Roles and Licenses Types via Import Scenario. 
The template is up to you - it depends on which fields you want to assign via the import. 
If you've no experience with Import Scenarios you should do the Open Uni training.
https://openuni.acumatica.com/courses/reporting/i100-integration-scenarios/
Posted : August 29, 2019 5:00 pm
I found this article to be very helpful setting up an import scenario for users. I also found a way to set Roles based on an already created role name (please see the screenshot below). The challenge I had was setting multiple permissions at the same time and found that if I put them on different rows the import will assign both roles, but can't necessarily do this is one import row.
Posted : March 6, 2020 1:04 pm
Nice Ryan! Thanks for sharing the way to import User Roles for the User.
Posted : March 20, 2020 8:56 pm