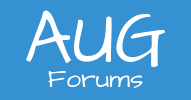 Reconciling AP to IN after 2019.1 upgrade
We currently have a couple of GIs that I wrote which used UnbilledQty and UnbilledAmount of POReceiptLine to easily identify PO Receipts which hadn't been billed. 
With the (stupid) 2019.1 upgrade, UnbilledAmount is no longer available. I had a quick attempt to resolve this but wasn't able to. My current plan is to decommission my queries. The closest I've found is the Purchase Receipt Billing Details report, basically scanning the output and looking for rows where Billed Qty <> Receipt Qty. 
This is far from ideal. 
Does anyone else have a better way to do this under 2019.1?
Posted : October 21, 2019 10:15 pm
Have you considered using UnbilledQty/BilledQty and UnbilledAmt/BilledAmt on the POLine and comparing to OpenQty and UnitCost?  If you have receipts that do not start as a POLine, you are probably better off doing a join between APTran and POReceiptLine and comparing that way.  We bumped into some mess when we upgraded to 2019.R1 because of them removing these field too.  🙁
This post was modified 3 months ago by
Wyatt.ERP
Posted : October 23, 2019 12:43 pm
I haven't worked with this yet, but I just noticed the Purchase Accrual Details (PO631000) report which uses a DAC called POAccrualStatus which looks interesting, especially the POAccrualStatus.ReceivedCost and POAccrualStatus.BilledCost fields.
Posted : December 4, 2019 9:40 pm
Yes we've noticed the new report and are using it to check open Purchases. It's a very handy report. Replaces the Purchase Receipt Accrual Details report but is improved by the fact that is has PO information as well. 
I've started to realise that with the 2019.1 upgrade, the purchase liability tracking has moved from receipts to purchase orders, which i guess makes sense in a way as the purchase order is where the liability started anyway. 
Posted : December 4, 2019 10:27 pm