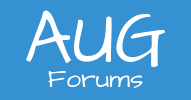 Add Custom Field from Location to Customer Locations Tab
I am sure I am missing something simple, but this is a case of proofreading your own term paper so many times you don't notice that you've misspelled your own name 🙂
I have created a new user field in AR303020 which is in DAC CR.Location. I was able to also add this to the CR303010 without any issues. What I need to so now is add this to the locations tab in the customer profile AR303000. I am not able to find my user field in any of the available data views. Can someone let me know how dense I am and what I am missing.
Thanks!
Posted : December 2, 2019 9:54 am
Hey Kevin,
You might want to try StackOverflow for this one. I'm wondering if something additional needs to be done to the graph on the Customers (AR303000) screen, but I'm not a developer so I'm not sure.
Posted : December 14, 2019 7:02 pm