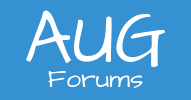 By using this website, you agree to our Terms of Use (click here)
Read Receipts
Hello all - looking to set up email for Acumatica. Thanks to Tim for the awesome tutorial updated this month on it. It works great, but the problem is Acu always "reads" all emails from your inbox. I am imagining issues will occur where employees will not realize they've received a new email because Gmail will just continually mark emails as read - to ensure you're reading all emails you will ONLY be able to use Acumatica.
I'm not even really sure if this is an "issue", but just wondering if anyone else works at a company where everyone uses Gmail and knows they have year and years of emails that are unread (I have coworkers with 5000+ unread emails...)
Thanks in advance!
Nic
PS - does anyone have anything bad to say about the Outlook plug in? Or is that really great? Exchange?
Posted : December 30, 2019 12:46 pm
Hello Nicolas - I'll leave your "read" question for someone using Gmail, but to comment on the Outlook and Exchange points:
 - We've had a generally good experience with the Outlook Addin.  Seen problems only in two specific cases.  One where the customer was using an old version of Exchange server to host their email.  Changing to a different host running a newer version fixed that.  The other was a bug (AC-143998) introduced in 2019R2 where it told the user that the Outlook Addin was not enabled even though it was.  Updating to a newer release of 2019R2 was the fix. 
- Have had more limited experience with the Exchange integration, but so far it seems to be a solid solution for syncing inbound and outbound email.   When not using the Exxhange integration, we found setting up the native SMTP and (especially) POP3/IMAP integration to be challenging due to ports and rights on the email server.   Once we switched to the Exchange Integration and configured delegation rights on the server, everything starting working very well.
Interested in others' experience with these.  - Andy
Posted : January 13, 2020 2:59 pm
@nicholas-smith, I'm curious what you're having Acumatica do with your email after it reads it. I'm not sure if there is a way to turn off the "read" behavior, actually I didn't even realize that happened.
One other idea for Gmail is acuGmail (click here) which is basically the Outlook add-in for Gmail. I haven't used it personally, but IIG has a good reputation so I'm optimistic.
Posted : January 13, 2020 10:04 pm