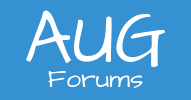 Business event triggering an email based on Custom GI question
I created a business event based on a custom GI.  When conditions are met, an email should be sent.  The logic works fine if I just hard-code an email address and text in subject, bodt, etc.  However, in the notification template I cannot see or add any of the data from my custom GI as placeholders that I really need.  I saw how to do this in a Tech Tuesday from Doug Johnson and near as I can tell I'm following all steps correctly.  But when I look at available fields/results to add as a placeholder - empty.  
Any thoughts on what I could be missing?  We are on 2019 R2 Build 19.200.0081
Posted : December 21, 2019 11:11 am
Hey Kevin,
Are you able to share a screenshot of what you are doing that is not working for you? 
For the email addresses and subject you should click on the magnifying glass to the right side of the field to see what options there are to use field from your GI. The email addresses will only allow data fields from the GI that are specifically email address fields, you also may need to check that you have the right tables/fields on your GI that you are trying to use in the notification template.
For the body of the email you should click Insert then Datafield for the current values from the GI or Previous Datafield for the previous value before change. In most cases you will probably want to use the current data from the GI but there could be cases to use the previous data as well.
Posted : December 24, 2019 2:46 pm
Hi Brandon,
Thanks for the response! I attached a couple screenshots showing what I see.  However, I imported this exact same custom GI to a local instance I have running (exact same version) and it works exactly as it should.  When I click the magnifying glass I see the tables/fields that are in my GI.  In the client instance/environment it is blank.  I submitted a case to support once I saw that as I feel confident I'm following the correct steps - maybe something else underlying going on with the environment, etc.
Posted : December 24, 2019 3:35 pm
Interesting. Sounds like there must be a difference in the configuration between the two environments. The question is where.
Posted : January 14, 2020 8:21 pm
After a few back and forths with support, found out it is a bug/problem introduced with the Construction Edition - so nothing wrong with our environment other than this client needed Construction Edition!  To work around this, I have the client's data in a separate local dev environment without Construction published.  I develop the GI in production, export and import into this other environment  (no construction), create the Notification Template there as all available columns are available, then copy/paste back to production Notification Template.  A hassle but it works until they fix the underlying issue.  Althouhg we aren't om most current Construction version, problem still exists in newest version too.
Posted : January 14, 2020 11:07 pm