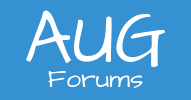 Renaming Report Designer Version Descriptions
Have you ever gone to the REPORT VERSIONS tab for a Report Designer report and seen a Description column that looks like this:
The 2nd version in the screenshot above is missing a Description completely and the 3rd version has nothing but garbage in the Description field.
How to fix?
1. Double-click into the Description field for the version that you want to change:
2. Type in your new Description value:
3. Hold down Ctrl on your keyboard and press the Enter key. This will commit your new Description value to the database. Note that a red icon will appear briefly on the left-hand side while the change is getting committed:
That's it! You have now renamed the Description for a report version. You can repeat the same process for other report versions like the 3rd version in the screenshot above.
I'm not sure what Acumatica build this got introduced in or if it always behaved this way and I just never noticed. But I'm using 18.205.0026 and it seems to work fine there.
I have also noticed that the report designer allows more characters than what the report version screen displays, so it helps to be able to edit directly in Acumatica.
Yes, this is very frustrating. I track my report versions in a separate document as the version descriptions on the Report Versions tab often get truncated.
Posted : 23/06/2019 5:44 pm
I guess I just never noticed it before 🙂
Posted : 17/07/2019 12:01 am