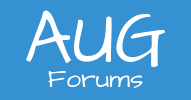 Projects Module
We are a projects-based company implementing Acumatica.  We are struggling with the projects module.   Specifically, the function of the revised budget fields....  Are these intended to be used as a tool only to revise the budget per the change order process... OR are revised budget fields intended to be used as an estimation of where the final project costs will end up upon completion?  So for example... if midway through a project we realize that a certain task is going to take an extra 100 hours more than we originally budgeted... is it intended that we update the revised budget by the 100 extra hours?  
Any help from users utilizing the projects module would be GREATLY appreciated.
Matt
Posted : February 15, 2019 4:26 pm
I haven't gotten too heavily into the Projects module yet, but are you talking about the Revised Budgeted Amount field on the COST BUDGET tab of the Projects (PM301000) screen? My impression is just as you say. It's a budget that can be continuously updated throughout the project while still preserving the Original Budgeted Amount for comparison purposes.
Posted : February 23, 2019 9:10 pm
Are you looking for a way to have an audit trail every time the budget changes?
Posted : March 3, 2019 4:10 pm