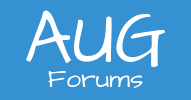 Machines (AM204500) Screen
My notes on the Machines (AM204500) screen in the Acumatica Manufacturing Edition.
This screen is where you create Machines that can be added to Work Centers. Note that while Machines can be added to Work Centers, they can't be overidden on a Bill of Material of Production Order.
Down: The Machine won't get scheduled if it's marked as down.
Asset ID: Informational field only that can be used for asset tracking the machine.
Standard Cost: This is an hourly rate that the Machine will be charged at. It can be overridden when you add the Machine to the Work Center. To determine the total Machine cost to be charged to a Production Order will be this Standard Cost * Machine Time on the Operation (in hours) / Machine Units * Qty to Produce on the Production Order.
Calendar ID: Used by Scheduling.
Efficiency: Informational field only used to indicate how productive the machine is.
Account and Subaccount will be credited when WIP is debited.
Posted : November 1, 2018 9:23 pm