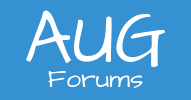 Balancing WIP to GL in month end process
Hello I am new to Acumatica.  
I am wondering if it is standard practice to balance WIP inventory with the production module as part of month end process.
I am from a SAP environment and this was standard practice.
My new company was not using the close production order process so I have some clean up to do.
I am having a hard time getting the production order assignment to inventory issues and receipts in balance sheet wip account.   Is there a easy way to get this information.
and how else is everyone balancing wip at month end assignment.  You suggestions would be deeply appreciated.
Posted : November 7, 2019 8:58 am