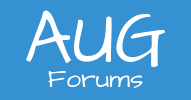 Update Existing Vendor Import
I am trying to change vendor defaults on the stock items screen per item. Some of our items do not have a default vendor; however, they do have mulitple vendors. I tried to create an import scenario to accomplish this, but I keep getting an error. 
Error: Updating 'Inventory Item Vendor Details' record raised at least one error. Please review the errors. Error: 'Purchase Unit' cannot be empty.
I just want to be able to give the vendors attached to items a default status because of having multiple vendors. 
This topic was modified 4 months ago by
Casey Hope
Posted : 07/05/2019 11:57 am
I think you're getting that error because the way you have the Import Scenario setup is telling Acumatica to add a new line to the VENDOR DETAILS tab on the Stock Items (IN202500) screen. It sounds like what you want to do is match an existing line, then update a field on that line.
Try this instead.
Excel file:
Import Scenarios (SM206025) screen:
Posted : 31/05/2019 8:11 pm