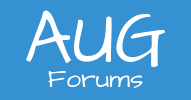 Reconcile Assets via Import Scenario
I've built a simple IS to reconcile assets to a specific GL Account. Basically i want the import to select the first row on the Reconciliation tab after setting the GL account to the value hardcoded in the IS. The IS works fine and creates the FA Transaction, but for some weird reason, the Transaction Amount is zero. If i do the same thing manually, it works fine. 
Any ideas?
The fact that the FA Transaction is being created means that the Selected box was checked. If you press Process button with no box checked, it doesn't create an FA Tran. The FA Tran also has the 1599 account, so that means that criteria was correct. 
The transaction amount on the FA tran isn't being picked up from the Selected Amount column, which should happen via the code behind the Selected box. It's almost like that code doesn't get executed when the box is selected via Import Scenario. 
Posted : 18/11/2018 8:44 pm
When I click the selected box, the Selected Quantity gets populated with the Open Quantity value and the Open Quantity value goes to zero.
But the Selected Amount column does not get populated with the Open Amount value. Does it for you?
Posted : 27/11/2018 9:21 pm
Because your example is already reconciled - you need an asset with Unreconciled Amount <> zero.  😀 
Yes, for me when clicking Selected, Selected Amount defaults to Unreconciled Amount (assuming the tran you are reconciling against has an amount greater or equal to the Unreconciled Amount. 
example:
Posted : 27/11/2018 9:53 pm
That's what I get for trying to sound intelligent about Fixed Assets 🙂
I'm not sure here, but that would indeed be strange if the Import Scenario behaves differently from the manual behavior on the screen. That would negate everything that I've experienced with Import Scenarios.
Posted : 27/11/2018 10:49 pm
Try StackOverflow. There must be some technical reason why. My bigger question is what other situations cause Import Scenarios not to behave like the screen.
Posted : 30/11/2018 6:11 am