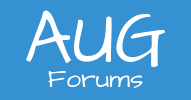 LEFT JOIN With Additional Filter Value
I'm trying to replicate the below left join in a GI by adding the additional filter at the end of the join. Is there any way to achieve this in a GI? I was trying to add a field outright in the relation and was hoping I could just add a value in the child field section but it complains with any variation I try. I tried another way doing it in the conditions but that didn't work out. Thanks in advance for any help on this.
LEFT JOIN FSGeoZone ON FSGeoZonePostalCode.GeoZoneID=FSGeoZone.GeoZoneID AND FSGeoZone.AreaType = 200
Posted : 07/05/2019 9:03 am
What about a Parameter that is hardcoded to true, then put all your logic on the left-hand side and have it evaluate to true/false, then select the Parameter on the right-hand side?
Posted : 31/05/2019 5:46 pm
Thanks Tim but I've moved on from this and found another solution. If I ever come across this situation again I'll keep this post in mind and give it a shot. Maybe one day Acumatica will adjust this section to allow us to do this in the future. I can't imagine I'm the only person to ever come across this.
Posted : 04/06/2019 12:02 pm