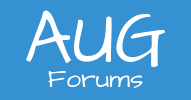 Having trouble getting @MyGroups to work in GI Filters
Haven't tried it. Are you expecting Is In to provide additional functionality above and beyond Equals?
Posted : June 1, 2019 2:13 pm
Yes, "Is In" is designed to be utilized with the @ workgroup functions.    I have opened a Case with Acumatica and they have been able to reproduce the issue.
Thanks,
Brett
Posted : June 3, 2019 12:41 pm
I just happen to see this posting and just wrote a sample inquiry for someone on how to make it work. Depending on your version, the filters in the inquiry may not work but at least since 2017R2 you can add @mygroups and @myworktree into the inquiry conditions and it does work. The trick is making sure you are using a schema field for the workgroupid that is of type PXCompanyTreeSelector.  I have uploaded a simple inquiry using EPEmployee and EPCompanyTreeMember tables.
Joe
Posted : July 18, 2019 4:15 pm
Thanks Joe.  My issue was actually an Acumatica bug that they just fixed in 2019r1 (and r2).
Brett
Posted : July 18, 2019 5:20 pm